Welding Consultant
When it comes to being a welding consultant, there are very little restrictions. It comes down to whether you have some knowledge and experience that somebody is prepared to pay for. In general, if you can solve somebody's problems and thereby make their operations more profitable, then you have the potential to be a consultant.
---
 The WelderDestiny Compass: Weekly e-zine Subscription
---
You can take a look at "The WelderDestiny Compass" back-issues by clicking here.

---
There are welding consultants that offer their welding engineering / welding technologist expertise to clients on an "ad-hoc" basis. This is probably the simplest transition to make when going into the welding consultant business.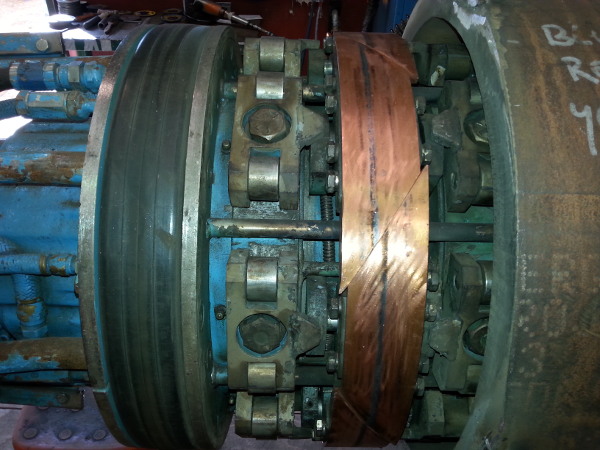 Close-Up of Internal Pipe Clamp for Automated Pipeline Welding Incorporating Copper Backing Shoes and Backing Purge
There are however also very experienced "hands-on" Welders that become consultants by helping clients to set-up and execute projects well. A typical example would be an experienced Welder / Welder supervisor from the pipeline industry that helps a contractor set up the necessary systems and hire the best personnel on a new cross country pipeline project.

In fact, any niche area of welding that you can think of, would offer the opportunity for you to be a consultant. All you need, is to have enough knowledge and experience to help a client get better outcomes. Obviously, the bigger the potential risk involved, the greater the potential for the consultant. It would be difficult to justify to a client to pay you $200 per hour to solve a $100 problem, but much easier to justify your $200 per hour fee when you are solving a potential $100M problem.

Welding Consultant Roles
Due to the many possible niche fields of welding consulting, it is not possible to describe typical roles. You can however look at the different roles within the different welding career jobs discussed on this site to get an idea of what your role could potentially be.

Something to keep firmly in mind when moving into the welding consulting field (or any consulting field for that matter) is that your work typically comes from people you already know, or other "word of mouth" sources. If you have not spent a long time in an industry, and you do not have a lot of contacts, then it will be almost impossible to set yourself up as a consultant. It is therefore very important to make sure that you build up this network of contacts before you decide to "go it alone". For this reason, the welding consulting business is largely made up of highly experienced (older) or even semi-retired professionals.

Not all welding consultants are sole operators. You can always join an existing consulting business if you want to get into this field. This has its own advantages and disadvantages, which would depend largely on your working relationship and agreement with your consulting company employer.

---
---
 The WelderDestiny Compass: Weekly e-zine Subscription
---
You can take a look at "The WelderDestiny Compass" back-issues by clicking here.

---