Structural Welder Jobs
We define a structural Welder as a person that performs field construction and maintenance welding to significant structures. Typically these would be bridges, steel framed high rise buildings and oil and gas platforms. We will also look at being a structural Welder within a dedicated structural steel fabrication workshop. To get more information about being a Welder within a welding fabricator workshop, click here.
---
 The WelderDestiny Compass: Weekly e-zine Subscription
---
You can take a look at "The WelderDestiny Compass" back-issues by clicking here.

---
When constructing major structural steel structures, there are a number of drivers that need to be met at the same time. These are: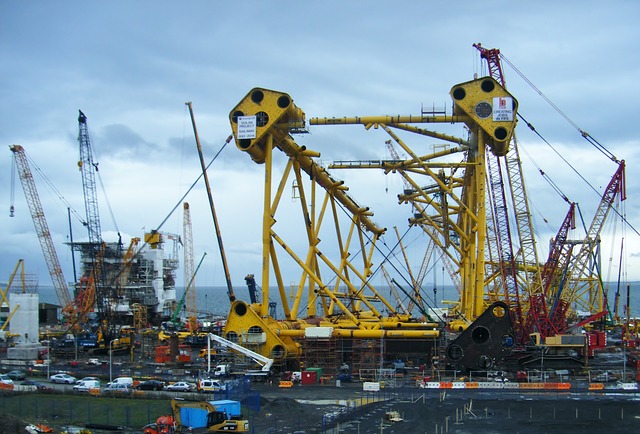 Oil Platform Jacket Under Construction
Materials Typically Welded
Most of the time, ordinary structural carbon steels will be used in large structures. These can vary in their strength category, with the higher strength steels needing more care when welding, to ensure that Hydrogen Assisted Cold Cracking (HACC) does not occur. Click here to find out more about HACC and preventing it when welding. There are some other materials that are welded, but they tend to be a relatively small percentage of the over-all structural work. These materials include stainless steel and weathering steel. As these are only a small percentage of the overall structural welding work, we will not look at that aspect further on this page.

Typical Structural Welder Skills
Due to the need to deposit a lot of weld metal in a short period of time, welding processes with a high deposition rate is often used by a structural Welder. In addition, welding processes generally need to be low hydrogen, to ensure that HACC does not occur.

The main welding processes / techniques that the structural Welder needs to be able to use are:

Flux Cored Arc Welding: (FCAW) Semi-automatic FCAW has high deposition rates while allowing the flexibility to weld in all positions and to gain access to relatively difficult to access areas. For more protected areas, welding with a gas shield is preferred due to the better weld quality and higher deposition rates. For more exposed areas, the self shielded version of FCAW is preferred. The structural Welder will therefore need to make sure that s/he can weld with both these variants of the FCAW process.
Shielded Metal Arc Welding: (SMAW) Also called stick welding or Manual Metal Arc. (MMA) The main use of SMAW is for smaller attachment welds, and to perform the root runs of single sided welds where it is not possible to have backing present. Generally this is done with E7016 electrodes, but it may be required of you to be able to deposit single sided root runs using other Low Hydrogen (LH) electrodes. For example, these days a 1% Nickel electrode is quite common due to the improved impact properties, especially under lower temperatures.
Submerged Arc Welding: (SAW) This is primarily a machine process, so it is not really suitable for field welding conditions, but is the process of choice in workshop environments where large structural components with relatively simple weld preparations are to be welded. Typically cylindrical "cans" or fabricated columns or beams. If you will be working primarily outside in a field construction environment, then SAW would not be required.

Gas Metal Arc Welding: (GMAW) Also called Metal Inert Gas (MIG) or Metal Active Gas (MAG) welding. The main problems with GMAW are that it needs a gas shield and can quite easily result in Lack Of Fusion (LOF) defects when welding out of position. (Out of position welding refers to a situation where the Welder needs to deposit a weld which is not horizontal, hence resulting in gravity having a negative effect on the weld pool.) For this reason, GMAW is normally only used in a workshop environment and on relatively light weight structures. It is generally avoided on heavy structural applications where out of position welding is required.
Due to the heavy sections typically welded, the application of pre-heat before welding is a very important aspect. It will therefore be very important for the prospective structural Welder to get a good grasp of the different pre-heating techniques and equipment that will be used. Most of the time, if it is required of the Welder to apply his/her own pre-heat, then it will be by way of propane torch or some variant of a propane fired heating system. When the more "exotic" systems such as resistance heating or induction heating are used, then dedicated personnel are normally hired to operate the equipment.

---
---
 The WelderDestiny Compass: Weekly e-zine Subscription
---
You can take a look at "The WelderDestiny Compass" back-issues by clicking here.

---