The WelderDestiny Compass
---
Learning From A Legend -
Issue #060
Wednesday, March 21, 2018 / Karratha Australia / By Niekie Jooste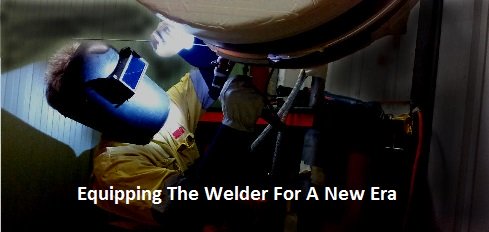 ---
In this edition of "The WelderDestiny Compass":
Stephen Hawking Tribute

Determination With Humour

Pragmatism

Adapt Constantly

---
Stephen Hawking Tribute

I am sure that you have read many a tribute to Stephen Hawking in the last week, since his death. It is not only his family and the scientific community that are mourning his death, but many everyday people all over the world. Professor Hawking was not just a great scientist, but also an inspirational figure.
Our beat here at The WelderDestiny Compass is to predict how the machine age will unfold, so that we are able to suitably adapt and to even thrive in the new reality. It occurs to me that there are few better examples of how we could go about this mission, than to learn some lessons from Professor Hawking.
Not only can we learn from his scientific achievements, but we can probably learn even more from the way in which he went about the business of living in a challenging environment, that was thrust upon him, and still managed to achieve so much.

If you would like to add your ideas to this week's discussion, then please send me an e-mail with your ideas, (Send your e-mails to: compass@welderdestiny.com) or complete the comment form on the page below.
Now let's get stuck into this week's topics...
---
Determination With Humour

After being diagnosed with motor neuron disease during his post graduate studies, Stephen Hawking was given around 2 years to live. With encouragement from those around him, he continued with his studies, and when it appeared that his disease was progressing much slower than initially anticipated, he grew rather determined to achieve that which he initially set out to do, despite his obvious limitations. That is, become a leading theoretical physicist.
While degenerative diseases can be unpredictable in their progress, the fact that he continued with a fruitful academic career, even after he was unable to speak or walk, is a testament to his great determination. It is however good to note that such determination was also as a result of those around him giving him support. At the end of the day, none of us is an island. We all need to support and be supported by others.
Never mind the practical difficulties associated with being a leading academic when confined to a wheelchair, and unable to speak, I can only imagine how difficult it is to just get through the day. His ability to not only "get through the day", but to also strive for excellence, is a testament to his great determination.

One of the great traits commented on by almost everyone that had dealings with Stephen Hawking, was his wicked sense of humour. Apparently he often steered his wheelchair over the toes of those that annoyed him, just for an inner laugh. Those that knew him understood that it was not an accident, and also enjoyed the joke.
In our quest to embrace the machine age, we will certainly also need determination and a "never say die" attitude. In this rather serious endeavour we should however not loose our sense of humour. One of the big dangers of life is to take yourself too seriously!

---
Pragmatism

One of the last warnings of Stephen Hawking was that the human race could be eliminated by artificial intelligence. When such warnings come from people that are just against everything new and novel, it is easy to dismiss. When it comes from somebody that was totally dependent on advanced technology just to communicate with those around him, then it resonates.
The iconic computer voice that we all associate with Stephen Hawking was obviously the front end of a rather sophisticated computer program. In fact, Stephen Hawking uniquely benefited from advanced computer technology, and would have experienced first hand the potential for good inherent in computers. This did however not blind him to the obvious dangers.
Another of the warnings to the human race was that life on earth was fragile when compared to the celestial forces out there. A significant asteroid hitting earth could certainly end all human life. There was however an answer to that! Go and colonise another planet urged Stephen Hawking.
I believe that it may just happen in my life time. Mars beckons, although it will also hold many dangers and difficulties.
In our journey into the machine age, there will certainly be many challenges. Challenges that will only be overcome through pragmatic solutions. Some of us may not like the machines at all, but believing that we can continue in our technical lines of work, without advancing technology, will certainly lead us into a dead end street.
We will need to see how best to adopt new technology to ensure that we stay a step ahead of the race. This does not mean that we are starry eyed, thinking that all technology is always good. Rather, we approach technology with the pragmatism that will allow us to prosper, even within the machine age.
The machine age will arrive with or without us!

---
Adapt Constantly

The unfortunate constant bodily decline associated with Stephen Hawking's condition meant that he needed to constantly adapt. His earliest voice synthesis system was operated by hand. When even his fingers were no longer able to move, the system was updated to allow him to operate it with twitches of his cheek. Stephen Hawking's life was one of constant adaption, just to stay alive and continue with his work.
He was also well known for the bets he used to make with his fellow physicists and cosmologists. Most of the bets he lost, because later research findings supported the other person's ideas. Not only did he pay the bets, he also adopted the new findings and incorporated it into his own work. Talk about turning lemons into lemonade!
One of the last "bets" that Stephen Hawking famously lost, was that the Higgs boson particle would never be found. If you can recall, this was the so-called "god particle" that was announced to much fanfare in around 2013. The particle was "found" in experiments run at the large hadron collider in Europe.
After there was a consensus that the existence of the Higgs boson was proven, Professor Hawking made a magnanimous recognition to Peter Higgs, who was one of the originators of the theory that predicted the existence of the particle.
In our quest to predict the future, and prepare ourselves for that future, we will necessarily make mistakes. We will need to recognise those mistakes and make course corrections. All endeavours in life tend to have some uncertainty associated with them. None more so than trying to make predictions about the future.
We should all strive to be adaptable enough to change our minds and change our course when it becomes obvious that things are going different than we believed. While Stephen Hawking was determined, he was clearly adaptable. We must not confuse determination with inflexibility.
As in the case of Stephen Hawking, we should strive for flexibility, while staying focused and determined.
Rest in peace Stephen Hawking. Thanks for your inspiration!

Yours in welding
Niekie Jooste

---
---
The WelderDestiny Compass: Weekly e-zine Subscription
---
Do You Have Thoughts About This Week's E-Zine?

Now is your opportunity to contribute to the topics in this week's The WelderDestiny Compass. If you have thoughts or examples that you would like to share with other readers of the e-zine, then please contribute by entering the title of your contribution in the box below. Feel free to make a brief or more expansive contribution to our discussion...
Your Thoughts on Inspirational Lives
Is there somebody that has served as a great inspiration in your life? What other lessons can we learn from the life of Stephen Hawking? Please share your stories, opinions and insights regarding today's topic.
---