Inspections using drones already a reality
by Nicolas Kohout
(Metz, France)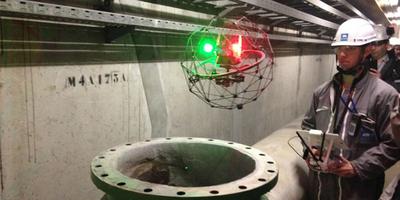 Credit: techcorr.com
Hello Niekie,

I know by experience that in France (but surely we're not the only ones) some companies already use flying drones for visual inspection, and sometimes dimensional inspections (using embedded 3D Scanners). I think especially of french welding institute (ie "L'Institut de Soudure" www.isgroupe.com) which use flying drones for example on petro-chemical sites, inspecting spheres or other huge equipments.
At the moment, they work in conjuction with a second company which is specialised in drones pilotage, because french regulation is such that in order to fly in public space or over areas such as industrial sites you need specific authorizations from DGAC (which is the french authority regulating aeronautics) and certified drone pilot.
So at the moment the inspection are using one drone and two peoples: one guy is seing the drone and pilots it at view, the other one is the inspector, he's using a LCD helmet and sees what the camera sees; he can operate it with a gamepad (such as a xbox gamepad) to decide more specifically if he wants to zoom, or rotate a bit.
They're using various drones models, the biggest ones can even load a DSLR camera. Some models are collision free as you suggest and can go inside spheres, and fly litterally "against" the sphere.


For sure, prices will drop fastly as drone technology is improving and regulations are adapting.