Welding Inspector Jobs
Moving into welding inspector jobs is one of the most common career progressions for Welders that are attracted to the higher knowledge side of welding. Depending on where in the world you are situated, the process of becoming a welding inspector will be a little different, but the globalization of engineering has introduced a couple of internationally recognized qualifications and certifications that qualifies you for a wide range of welding inspector jobs. The process is now simpler than in the past.
---
 The WelderDestiny Compass: Weekly e-zine Subscription
---
You can take a look at "The WelderDestiny Compass" back-issues by clicking here.

---
The Job of a Welding Inspector
In short, the role of the welding inspector is to make sure that the design requirements for the weldment has been achieved. As such, it is considered a Quality Control (QC) function. The welding inspector needs to know what the requirements are, and then s/he needs to know if those requirements are being met.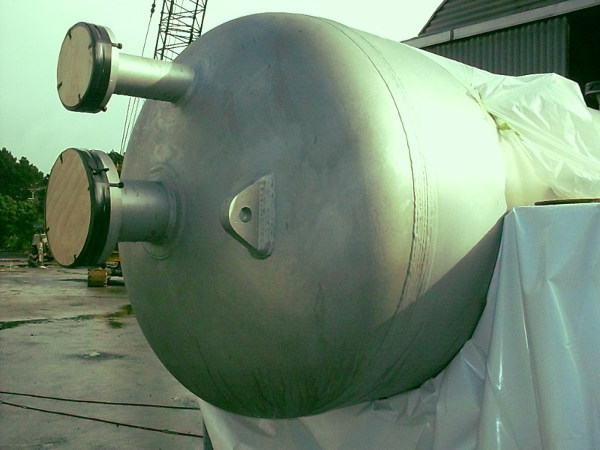 Duplex Stainless Steel Pressure Vessel For High Pressure Application in the Off-Shore Gas Industry
This means that the welding inspector needs to have the knowledge of what the requirements are in the first place, and then how to make sure that those requirements have been met. The central knowledge base for welding inspector jobs are therefore:

While the knowledge base is important to qualify for welding inspector jobs, just as important is having the right personality for the job. While the welding inspector will need to have a pragmatic approach to inspection, paying heed to the risks associated with the particular component, s/he also needs to be able to stand their ground when challenged regarding the calls made. The pressure placed on welding inspectors by production personnel when a Does Not Comply (DNC) call is made can be very significant. If you experience stress when having to standing up to strong willed people, this may not be the job for you. If this does not phase you, then this aspect of the welding inspector job should not cause you undue stress.

The Route to Welding Inspector Jobs are Qualifications
Traditionally most of the developed economies had their own welding societies or associations that got involved with the certification of welding personnel such as those for welding inspector jobs. Due to the globalization of industry, there has been a steady move towards more internationally recognized qualifications and certifications for welding inspector jobs.

Within the Americas, the most widely used qualifications and most recognized certifications for welding inspector jobs are those given through the American Welding Society. (AWS) Within Europe the European Welding Federation (EWF) was formed to make welding standards and certifications more recognized across national boundaries within Europe.  This is not to imply that individual countries do not still operate their own schemes. A typical example being CSWIP in the UK.

Another organization that is taking a leading role globally in the certification of personnel for welding inspector jobs is the International Institute of Welding. (IIW) The International Institute of Welding is actually quite an old organization, but its influence on the certification side of things is actually only quite recent.

The current situation is that most of the mainstream welding inspector certifications are recognized in most parts of the world. By "mainstream" I mean:

AWS certifications
EWF certifications
IIW certifications

CSWIP certifications
The statement above is rather generalized, therefore it is best for you to make sure which qualifications are recognized in the jurisdiction that you want to work in. If you want to work internationally, then basically certifications from any of the organizations listed above would qualify you for welding inspector jobs.

Personally I would recommend the IIW qualifications if you want to work around Europe; Africa and the Asia Pacific region. Many countries' national welding associations or societies are aligned with the IIW, so it is usually relatively easy to get to the necessary training courses to qualify for the registration process. Again, confirm this with your country's welding body.

Also keep in mind what flexibility you need for international recognition, given your career plans. The way that many countries work is that they give you their own certification, but their training programs are structured in such a way that you can just do an additional exam to attain the IIW qualification as well. This is well worth doing if that option is available to you, irrespective of your current plans. Given the fast changing world, your plans may also change rather unexpectedly.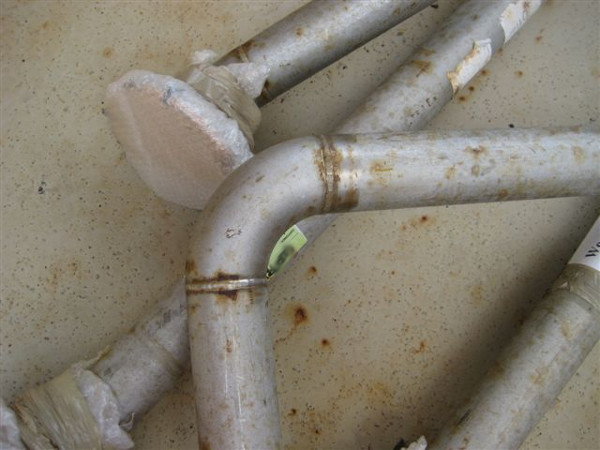 Corrosion on Unused Stainless Steel Pipe Spools Due to Surface Contamination During Fabrication
Inspection Niches, Industries and Codes
As is the case with being a Welder, there are many different industries within which one can become a welding inspector. Examples being: process plant equipment; pipeline; structures; aerospace; nuclear etc. While the basics associated with being a welding inspector does not change significantly, the background knowledge with regards the relevant welding codes will be quite different between different industry segments.

When you undergo your welding inspector training, there will typically be two or three main codes that are dealt with. These will vary, depending on your particular location and the organization through whom you undergo the certification. Please note that it is not possible to become an expert in all welding codes. There are way too many.

If you are currently a Welder and you want to start gaining exposure to welding codes so that you can prepare yourself for a life as a welding inspector, then I recommend you focus on the following codes:

While the codes above are good starting points, there are numerous different codes, standards and specifications that the welding inspector will need to get an understanding of. These standards deal with subjects as diverse as welding consumables, base materials, destructive and non-destructive testing methods, quality management systems and the like. Understand that no welding inspector starts off his/her career knowing all the relevant standards. You get to know the base codes, and then you pretty much get to know the others through "on the job" training over the years. The particular standards and codes being dependent on your specific industry. The wider exposure you get to codes and standards, the better a welding inspector you will be.

There are many misconceptions about why the different codes have the requirements that they do have, therefore it is important to find somebody that is well informed to explain them to you, if you are uncertain.

Quality Systems Knowledge
Central to the work of the welding inspector is the quality assurance and control function. This is not only based on technical welding knowledge, but also quality systems knowledge. Within this part of your work you will get to deal a lot with quality management system standards such as the ISO 9000 series of standards, and also the ISO 3834 series of standards. A basic understanding of these standards are very advantageous to the welding inspector.

Quality Assurance (QA) and Quality Control (QC) are largely driven by documented systems and rely on documents and records to have traceability and an auditable system. All of this will be central to your job as welding inspector. If you are overly daunted by paperwork, then you may not enjoy the life of a welding inspector.

Many of the QA/QC systems are computerized in many companies, therefore you also need to be comfortable working with computers.

---
---
 The WelderDestiny Compass: Weekly e-zine Subscription
---
You can take a look at "The WelderDestiny Compass" back-issues by clicking here.

---