Wednesday, June 06, 2018 / Perth Australia / By Niekie Jooste
You can also read this e-zine on the WelderDestiny website by clicking here...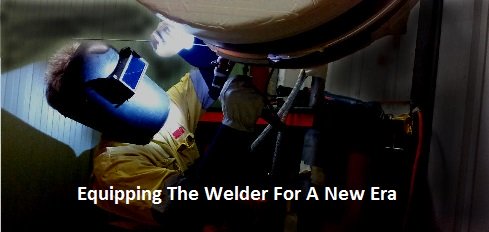 ---
The Value Of Data - Issue #071
---
In this edition of "The WelderDestiny Compass":
The Data Entrepreneur
Data - The New Oil
Democratisation Of Data
Prospecting For Data
---
The Data Entrepreneur
We have dealt with the value of data a number of times in The WelderDestiny Compass. Anybody that doubts that data has value need only ask why there are so many hackers out there trying to get their hands on your information. If you think it is only financial data such as credit card details that has value, ask yourself why Facebook and Google are two of the biggest companies in the world, when all that they sell is data collected from everyday people like you and me.

Today we are going to tackle the issue from a different angle. Today we want to think about how we can be much better entrepreneurs if we can develop the skill to constantly recognise the value of data that we generate or come into contact with. Once we can recognise all the potential in the information / data, then we will suddenly see hundreds of ways of establishing services that others would be willing to pay for.

With this skill entrenched in our thinking, we will be able to radically increase the value that we could add, drastically increasing the potential earning power of any product or service that we decide to sell as a micro entrepreneur. This has the potential to be one of the big differentiators of any business in the machine age.

Remember that machines not only generate a lot of data themselves, but to make good decisions the artificial intelligences (AI's) of tomorrow will also need mountains of data. What technology takes away in jobs, it gives back in new opportunities. Be ready to embrace those opportunities!

If you would like to add your ideas to this week's discussion, then please send me an e-mail with your ideas, (Send your e-mails to: compass@welderdestiny.com) or add a contribution directly into the comments form on the bottom of the e-zine page on the WelderDestiny website.

Click here to add your contribution directly to the WelderDestiny website...

Now let's get stuck into this week's topics...
---
Data - The New Oil
I am sure that by now most people understand that there is value in data. In essence the entire information technology (IT) sector is just about recording and sharing data. At the start of the IT revolution, it was mostly about moving data between geographical locations. That could be sending an e-mail from myself to a friend, or downloading a product catalogue. This information could be transported in a few moments halfway across the world.

However, the very action of sending the e-mail or downloading the product catalogue, conveys information. That information is collected as a matter of course, because the IT system needs that to operate. This type of data is called meta-data.

Companies like Facebook and Google collect that data. If they can in addition link that data to specific people, then suddenly the information has a lot more value. So much value in fact, that companies are prepared to pay billions of dollars for it.

If we can now start thinking about each device that is connected to the internet, and how it will be generating such meta-data, then we can see how there will be an explosion in the amount of data around. The so called internet of things (IoT) will just increase this exponentially.
---
Democratisation Of Data
Now you may be thinking that all this data being generated is all great for the big technology companies, but seeing as you or I do not have access to this data, surely it is unimportant to us. Up until now you would largely have been correct.

The main reason that we as users of the systems have been excluded from extracting the value in the data is that we did not have the ability to capture that data in a database that we control. The data was always captured by the organisations operating the infrastructure. As an example, Google operates the search infrastructure, so they are able to collect the data inherent in searches and exploit that value.

Things are however in the process of changing. The distributed ledger technology, (DLT) of which the bitcoin blockchain is the first example, holds the promise to provide us with decentralized databases. Such databases will allow us to keep control of our own data, while sharing it with those we want, and making some spare change on the side.

Currently there are thousands of teams working on developing DLT platforms, and applications that can run on those DLT platforms. It is just a matter of time before the decentralized autonomous organization (DAO) becomes a mainstream reality. It is still early days for DAO's, but there will almost certainly be an explosion of these organizations within the next 5 to 10 years.
---
Prospecting For Data
We believed that Facebook and Google were only using our data for marketing purposes, but we were wrong. While the advertising business is certainly a big market, the data collected by them can be used for many other purposes.

The Cambridge Analytica scandal that rocked Facebook showed us that the data could be used for political purposes. I am also aware of investment firms using the information for their research. Depending on the types of search terms that people use, they can predict stock market trends and invest accordingly.

Governments use the data as a proxy for census data to plan infrastructure spending, and to measure citizen welfare. Spooky spy agencies use the data to track down criminals and terrorists.

But the biggest potential is in all the data that is siloed in "private" databases all over the place. Imagine if there was a way for medical researchers to access the medical histories of millions of people from all over the world. Obviously we would like to keep our own medical records private. But, what if a system was so designed that outsiders could only access the information if we said they could, and in addition they would not be able to trace it back to me or you as individuals? They would get the data, without knowing the person it came from. It would be a win-win, especially if they paid us for access to the information.

Can you imagine the huge value such a dataset would have? Not just from a marketing point of view, but from a research and development point of view. With that much medical history, surely a lot of currently untreatable conditions would find effective treatments. Such a dataset would be worth hundreds of billions of dollars.

Now the trick is to develop the skill to recognise such valuable datasets around you, in your line of work or interest. Datasets that currently are not accessible, but that could render huge value if they are made accessible. The skill to develop now is to recognise the potential platforms that will allow you to start making that data accessible, while keeping it under your control.

There are certain central skills in being an entrepreneur. Skills such as understanding markets and customer need and behaviour. In the machine age, there is an additional skill to learn. The skill of prospecting for data.

In future e-zines we will look at examples of such datasets.



Yours in welding

Niekie Jooste

P.S. Do you believe that understanding how to use data will be central to entrepreneurs in the machine age? Can you think of datasets that could have big value if made accessible? Please share your stories, opinions and insights regarding today's topic, directly on the e-zine page on the WelderDestiny website.

Click here to add your contribution directly to the WelderDestiny website...

P.P.S If you know anybody that you believe could benefit from The WelderDestiny Compass, please forward it to them. If this e-zine was forwarded to you, and you are interested in receiving our future editions, please visit the WelderDestiny.com website and enter your e-mail details into the subscription box. It is a big red box on the home page, so you can't really miss it. - I hope!
---
Click here for the best version of The WelderDestiny Compass back-issues...
---